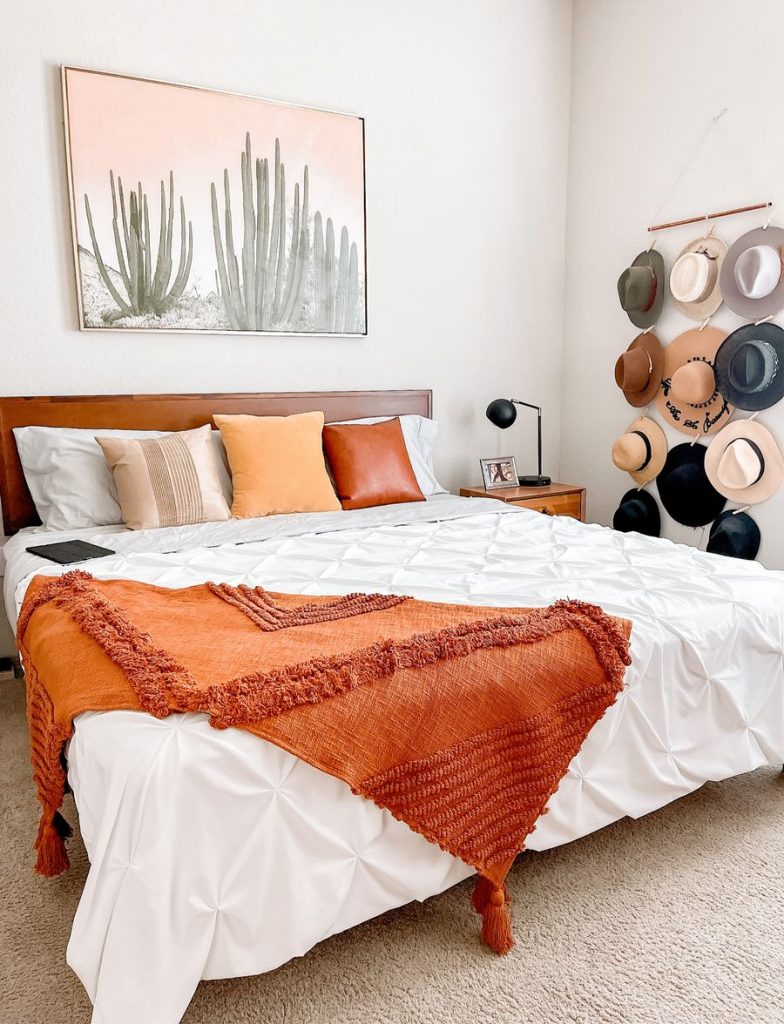 It's been a year since we moved into our apartment, and I couldn't be happier with our decision to size down. I must say it was difficult in the beginning but now, we have gotten used to a much smaller space.
Even though we have a smaller bedroom comparatively, it was my husband's idea that we get a king-size bed because he wanted a bigger space enough for me not to hit him while we sleep. I do miss the extra space and storage, but I really like managing a smaller house so far. Not only that, less space means less water / electric consumption. Also, less space to clean and more time for me to do other things besides household stuff!
When it comes to home decor, I focus more on what is the style or theme I'm going for rather than buying a furniture set in stores. I shop for home furniture in different places, online, in-store, and my favorite place to get furniture/home decor – FB marketplace!
Cactus wall art is my best Facebook marketplace finds to date. (bought it for $25 | $130 retail at World Market)
Mid-century modern lamps are from TjMaxx $20 each but here's a similar one from Amazon 
Mid-century nightstands are a great West Elm dupe
DIY Wall Hat Rack – super easy and affordable lang ng materials check this link on how to make your own
https://sortinghangers.com/…/easy-diy-hat-wall-display…/
#apartmentliving #homedecorinspo #bedroomdecor #midcenturymodern #bohodecor
Note: The items mentioned in this post are not sponsored however I will earn a few bucks if you shop using my affiliate links.