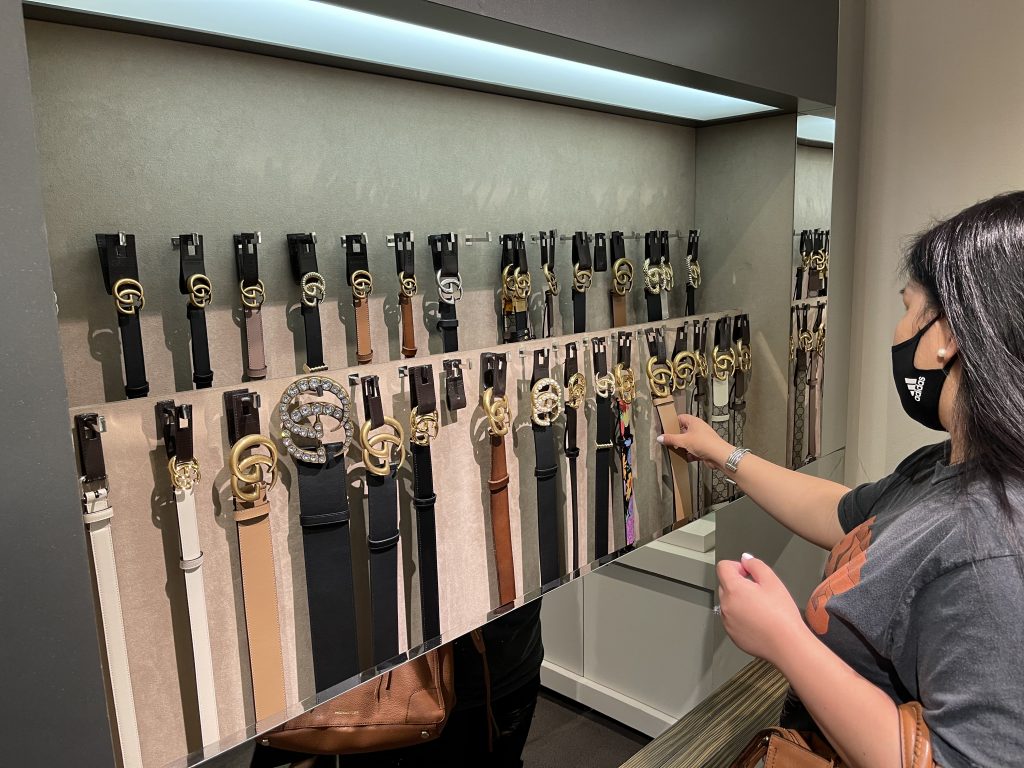 If you've been following me on Instagram, you probably heard about my Gucci story a few times. I've said it before and I'll say it again, "if you can't stop thinking about it, BUY it."
I've always wanted a Gucci belt because of its popularity amongst bloggers. So if there's anything Instagram made me buy, it's the Gucci belt for sure!
For starters, not only does it make your outfit look chic, but it can also make a simple outfit look expensive. I mean, you can wear a white shirt, denim shorts, add on a Gucci belt and it will bring your entire outfit to a whole new level.
February 2018, I was first introduced to the iconic Gucci Double G Marmont leather belt when I learned about it in the LikeToKnowIT shopping app. The belt has a shiny and brass gold buckle that definitely caught my attention. That day I knew I need this belt in my life.
I started selling some of my clothes on Poshmark and be my own #poshboss to save up money for the belt of my dreams. And to make the long story short, I had the money, short by a few bucks but my husband pledged to cover the rest. However, my economic conscience kicks in, and for some weird reason, I ended up using the money to buy more inventory instead and start to really get serious with my online clothing business.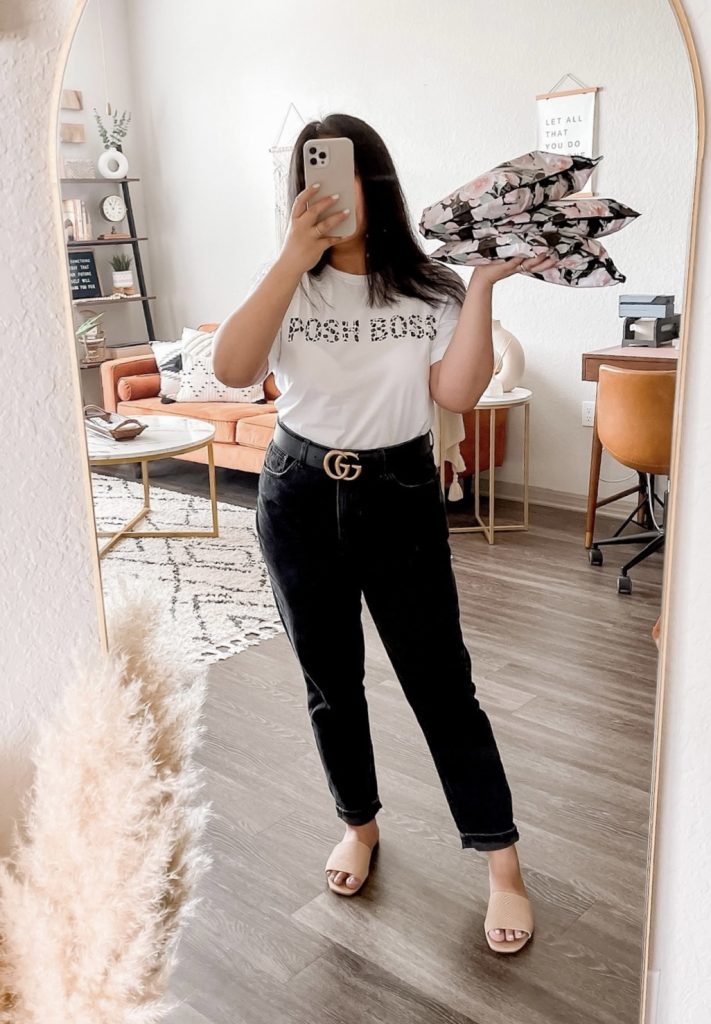 February 2021, you would think that after all these years I have gotten over the Gucci belt dilemma. Until one day, I started to browse online shopping apps again to see if I can get one without having to spend the full retail price. Thus, my Gucci belt scam saga began.
Let me start with the first one I'd like to call a "catfish" scam. It was through an online shopping app called Mercari. The Gucci belt listing got me interested because the item is new in the box, has screenshots of the online order from the Gucci website and it was 40% less than the retail price. I did my serial number search to verify that the belt matches the serial number and click Buy Now. Not gonna lie, it feels so damn good to buy something using your own money. I couldn't contain my excitement, but I kept it to myself and didn't tell my husband about it. I really wanted to surprise him because he knows I've been looking for one for so long.
After 3 days, the seller hasn't shipped the belt so I reached out to her. I was told she got covid and she's quarantined so she couldn't go to the post office. And from there, I knew this isn't gonna end well.
A few days later, I received the package, and as predicted – it wasn't the belt listed by the seller. I'm almost positive the photos she used aren't hers either. I immediately contacted Mercari support to file a return case. Thankfully it was approved, so I sent the belt back and Mercari refunded my money.
Here are the photos of the Gucci belt from the seller's original listing on Mercari. As soon as she gets the belt, I noticed that it was re-listed.
And here are the photos of the belt I received. It literally raised a red flag when I opened the package.
The second belt scam was a listing from Facebook Marketplace. I use the money transfer app Venmo to pay for the belt and the shipping fee.
Here's a screenshot of the Facebook marketplace listing chat I initiated when I asked the seller as to why she's selling the belt.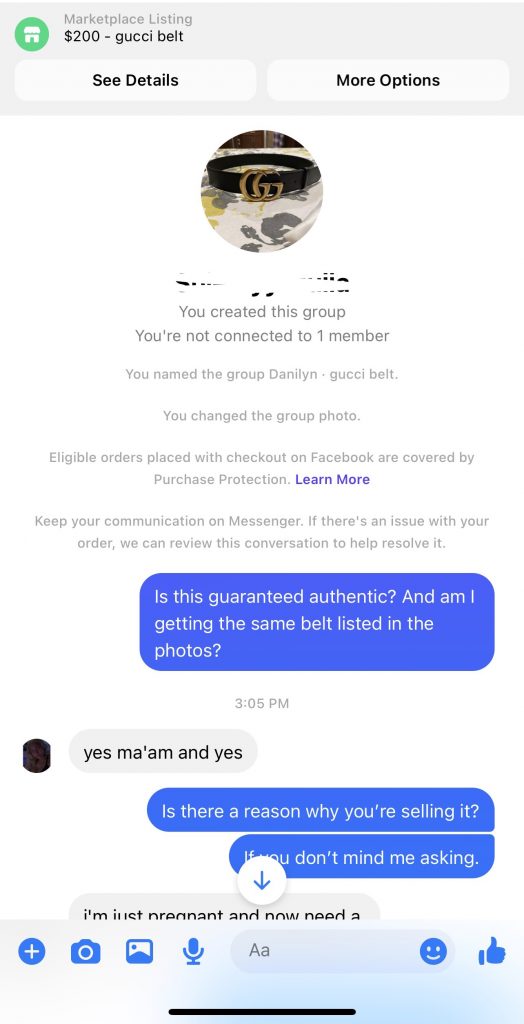 Here are some of the photos from her Facebook marketplace listing which she deleted 2 hours after she got my payment. I was smart enough to save the photos to my phone. In a way, now that I look at it – I probably knew this is going to happen.
I knew the belt is authentic judging from the photos, but I still used an online authentication service from Real Authentication to verify. I paid $30 for the authentication fee and add $30 for 1-hour turnaround.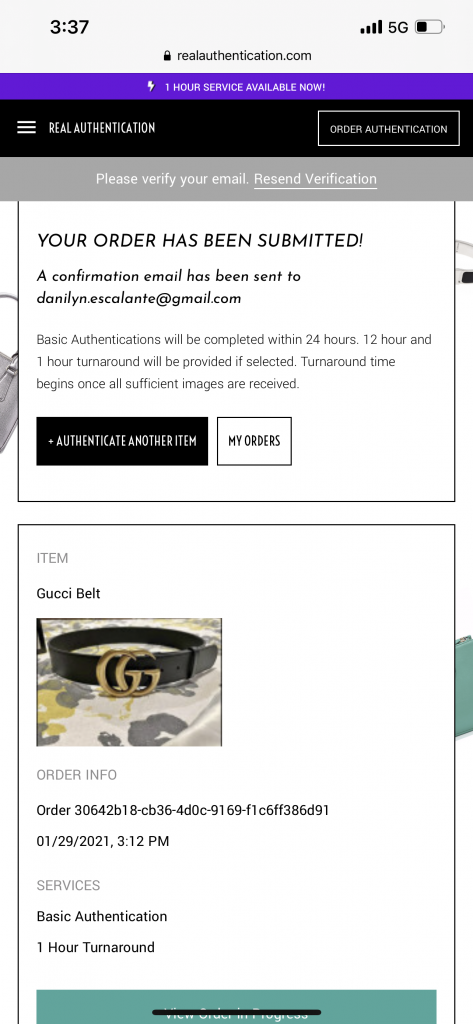 And here is the screenshot of my Venmo payment confirmation along with a note for her which I'm sure she didn't bother to read.
Now before you ask me, why would I pay someone I don't even know through an app? Let me explain why.
I'm an online seller – been doing it for years and I've done several transactions through Venmo and other money transfer apps like Cashapp, Zelle, and Paypal with no issues at all. But I also know that trust and confidence aren't enough, you have to be smart especially dealing with online transactions.
One thing I did wrong – used Venmo balance to pay instead of using a debit or credit card. Had I used my cards, I can easily file a dispute with my bank and get my money back. But it's too late, hard-earned money down the drain. It was a harsh learning experience, to say the least.
The seller never sent anything, nor replied to my Facebook messages. I reached out to Venmo, but they couldn't help me.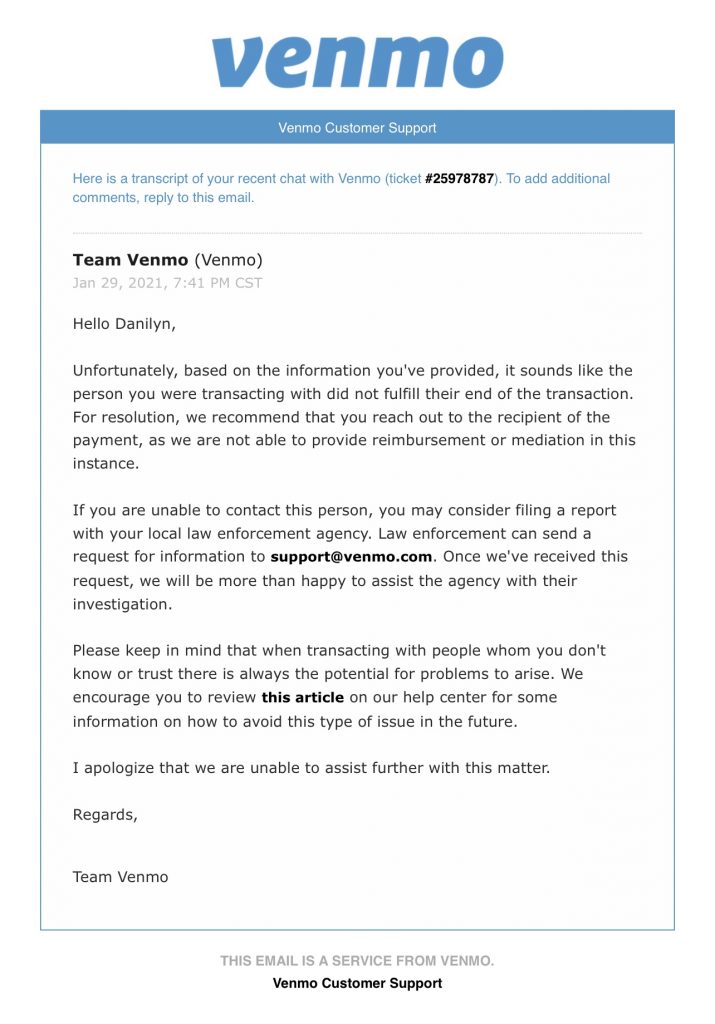 Venmo support told me to file a police report. I thought about it for a second but then again, is it really worth it? when I know part of this mishap is due to my negligence so I'd take the consequences for my actions. I filed a Fraud Report to Federal Trade Commission instead.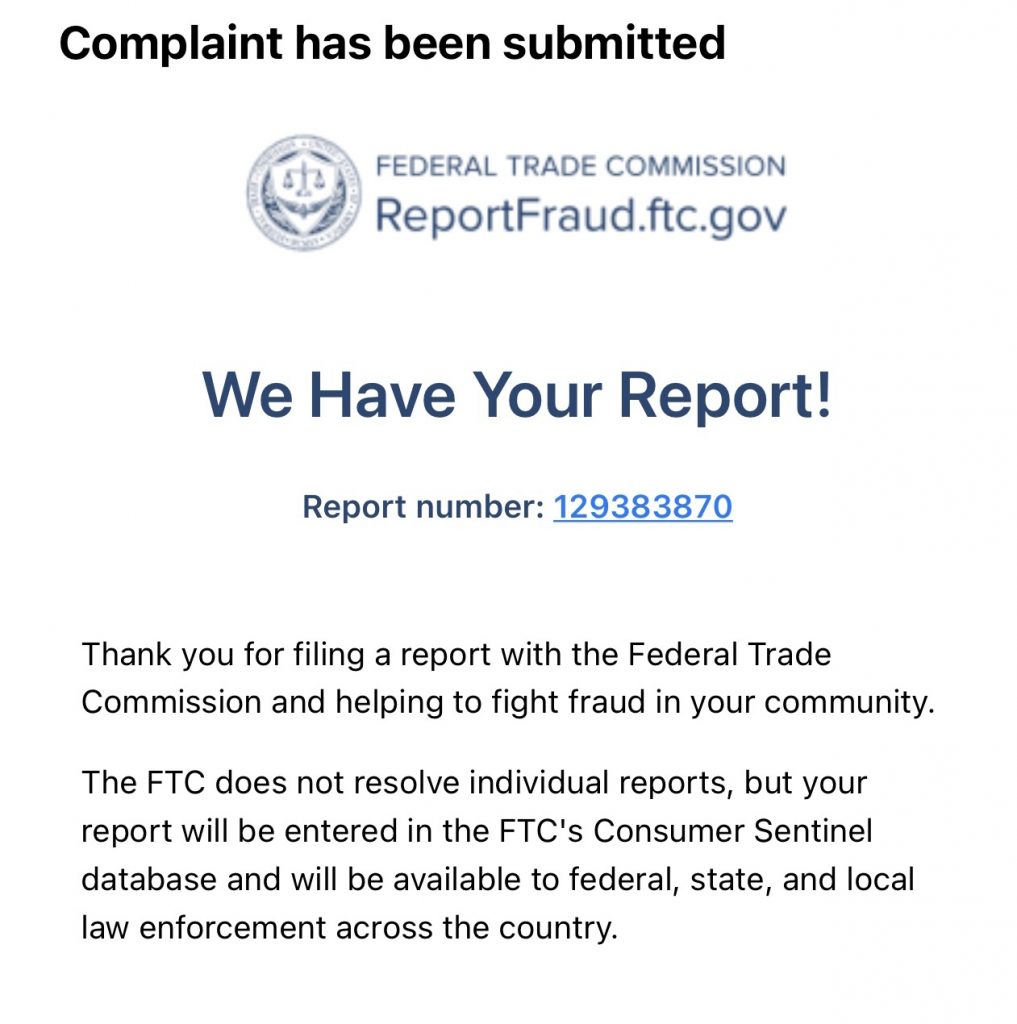 On a positive note, I won't have this blog written had I not went through that bumpy belt ride. Although that was not the story I'd like to write, that's one for the books.
A month later, three long years of waiting is finally over when my husband told me that we are going to the Gucci store to buy the belt as his early Mother's Day gift for me. I can tell he's getting tired of my Gucci belt scam saga so he decided to just buy it so we can all move on. Considering it's a spendy purchase, I make sure to stick to a classic color and hardware combination that could go with most of my outfits and maximize its versatility.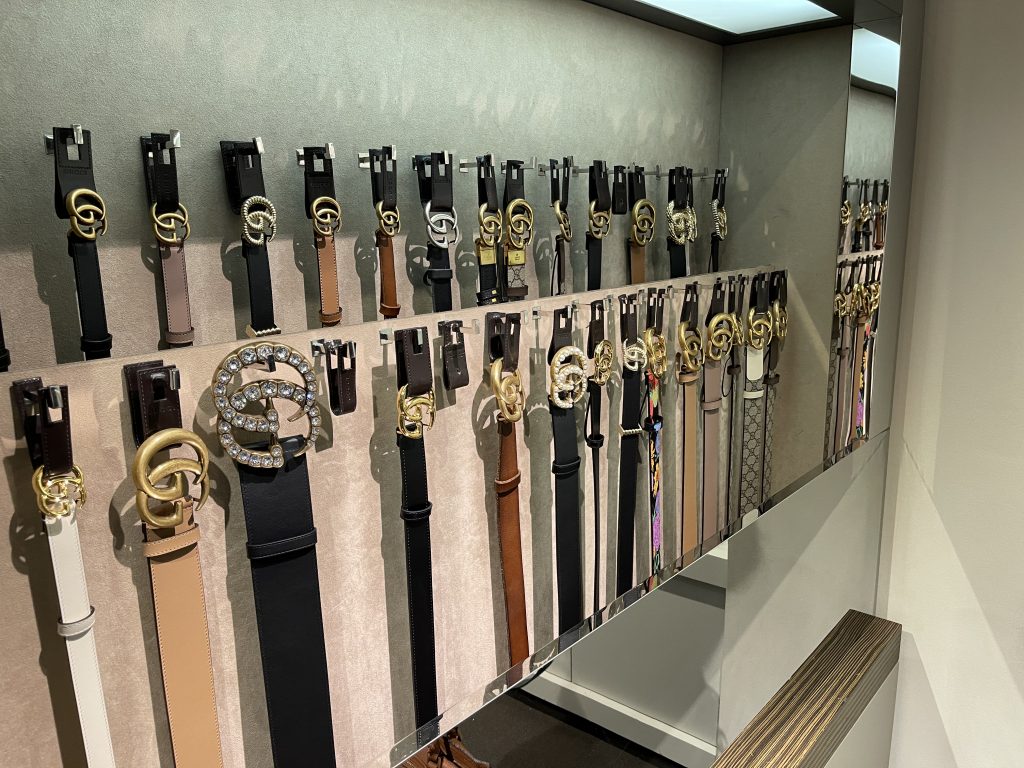 So many colors and styles to choose from. I'm like a kid in the candy store.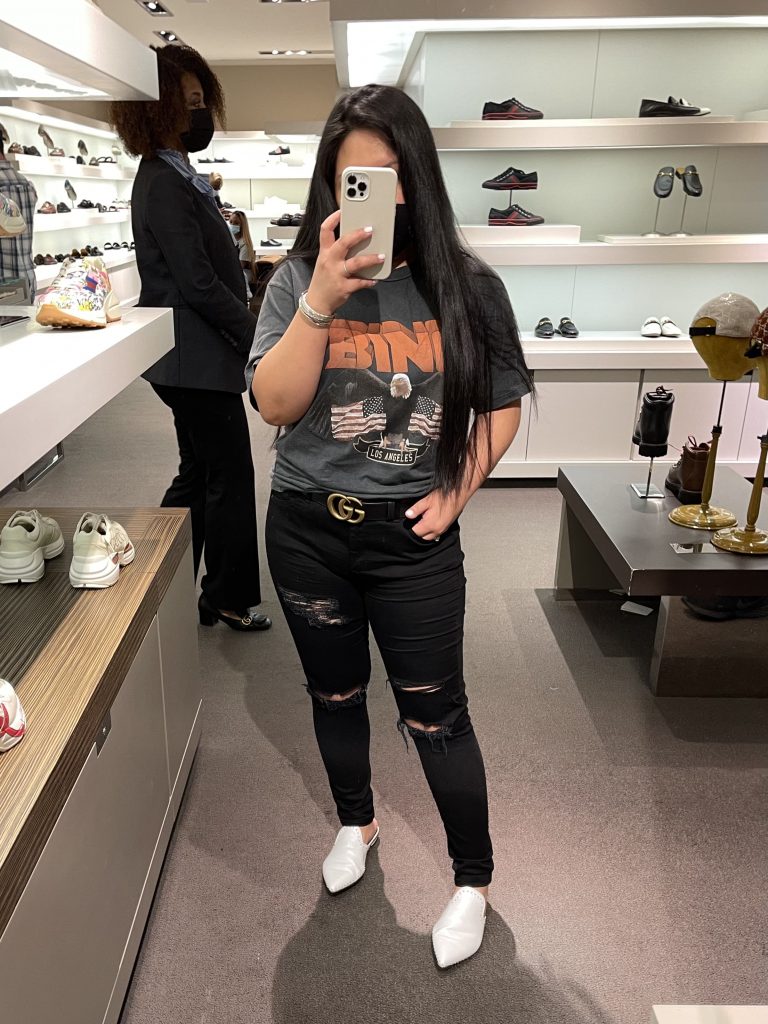 My intention was to try all 3 belt sizes but because of covid restrictions, I can only try 2 and I chose the wider size 1.5″ because it looks better for my body frame.
I was eyeing a Gucci bag too, but there are people waiting in line outside the store so we had to leave as soon as we're done.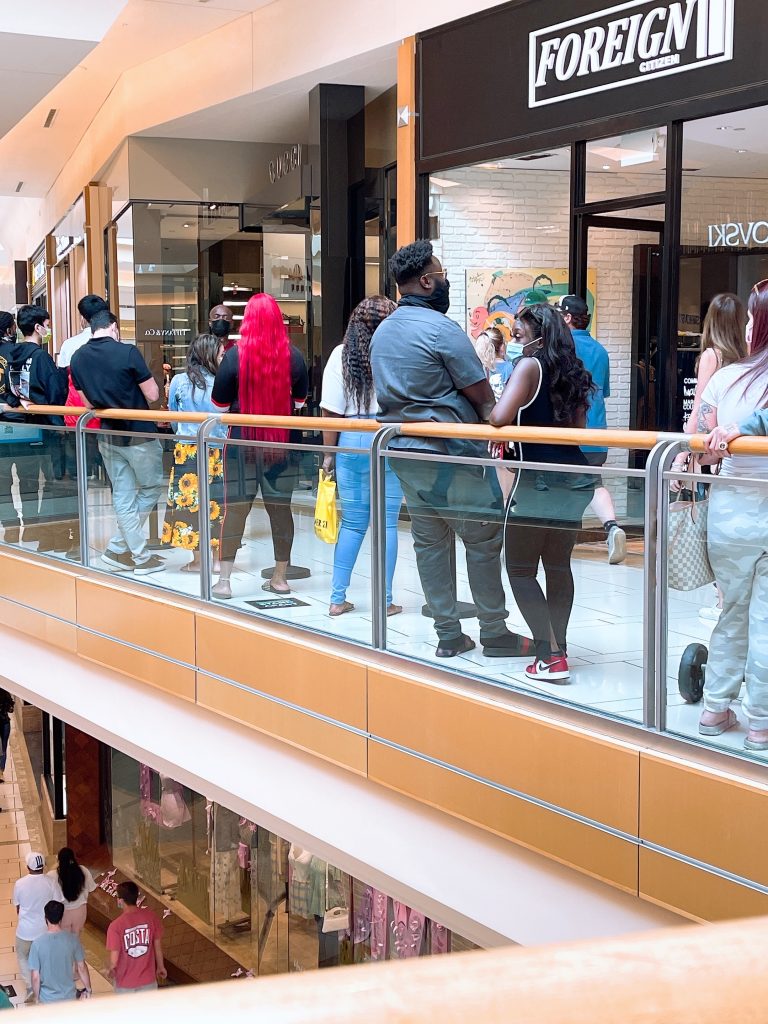 So, how do you avoid getting scammed when buying a Gucci belt? Check this guide to learn how to spot the difference between a fake and a real Gucci belt and things you should do to avoid getting scammed online.
I hope you enjoyed and learned something from today's blog. Ciao!
Xo,
Danee
THIS PAGE CONTAINS AFFILIATE LINKS, WHICH MEANS I EARN COMMISSION ON PURCHASES AT NO ADDED COST TO YOU. ALL PHOTOS ARE MY OWN. THANKS FOR YOUR SUPPORT!